You can use the MobileScapes Data Extract tool to better understand mobile movement. This tool allows you to create a list of mobile devices that have been identified within a certain area, during a given time frame. This is anonymized, permission-based data collected from location-enabled mobile devices. Device locations can be tracked at a specific time and location, but cannot be tied back to a specific individual. For more information about privacy or how this data is collected, please contact your account representative.
Specify an area of interest - called a geofence - and a time period, to return all the mobile devices that were present in that location and time.
Once you have generated a list, you can use it as a list of customers in ENVISION and run any customer reports and analyses as you would any other customer file.
1. Launch the MobileScapes Data Extract tool.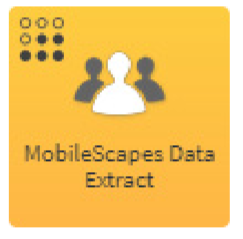 2. In Step 1 – Select or Create a Geofence, click Create.
This will allow you to draw an area on the map to specify an area of interest. You can also use an address to find a specific location on a map, or you can simply move the map to your area of interest. This example will use an address.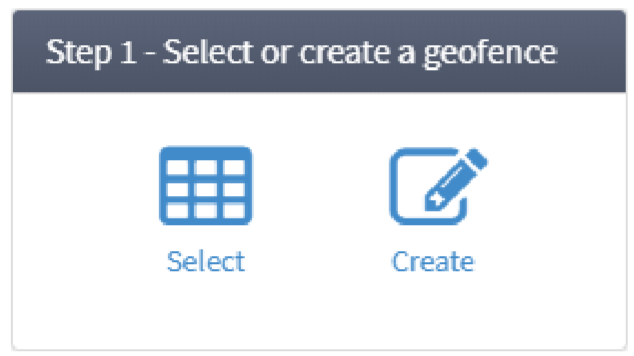 3. Enter the address and click Geocode.
Note: You only need a minimum of either Street/City and Province/State or Postal/ZIP code for the address.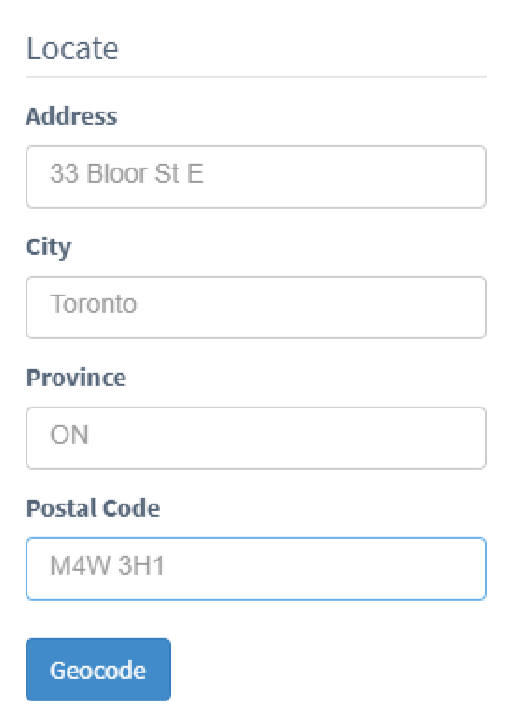 The map focuses on the address you entered.
4. Move your cursor over the map. Tool tips will appear to assist you.
5. Click the map to start drawing the area you wish.
6. Click again where you want to change the line direction.
7. Double-click to close the shape and end the drawing. The finished shape, or geofence, will appear on the map.
Note: The area can be no larger than 2 million square feet.
8. Enter a Name for the area. The tag 'Geofence' is added automatically.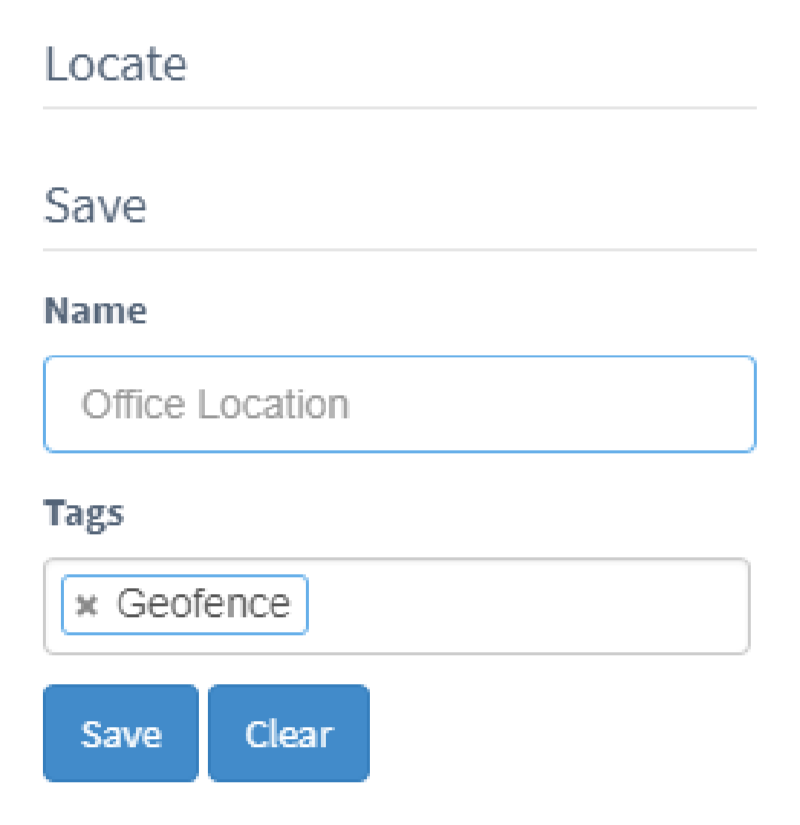 9. Click Save. A status message appears in the bottom-right corner indicating that the area has been saved. Step 2 – Submit your request will appear.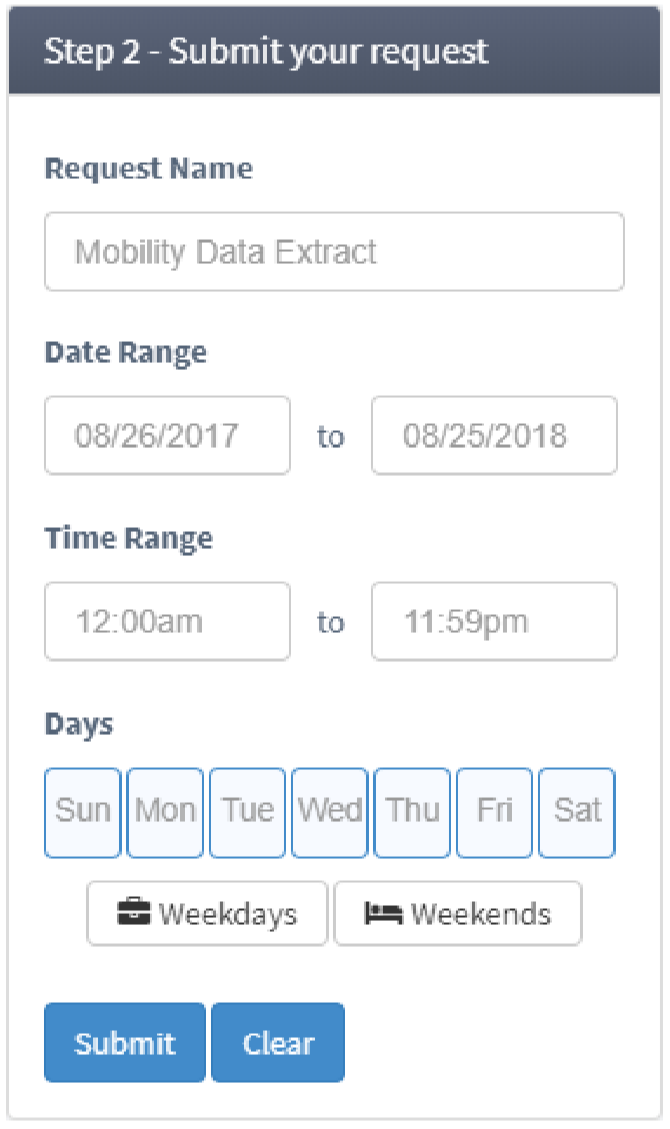 10. Enter a Request Name for the data extract. It is a good idea to be as descriptive as possible.
11. Specify a Date Range. This can be a single day, or as long as several years, but the end date must not be later than a week prior to the current date. For example, you can choose to focus on the date of a specific event.
12. Specify a Time Range. This could be an entire 24 hour period or just a specific time of day. For example, you can choose to focus on the duration of time for an event or just the hours of the day that the store is open. The default is a full 24 hour period.
13. Specify the Days. It can be one day or every day of the week. All of the days are selected by default (outlined in blue).
Tip: Use the Weekdays or Weekends button to specify those days with just one click.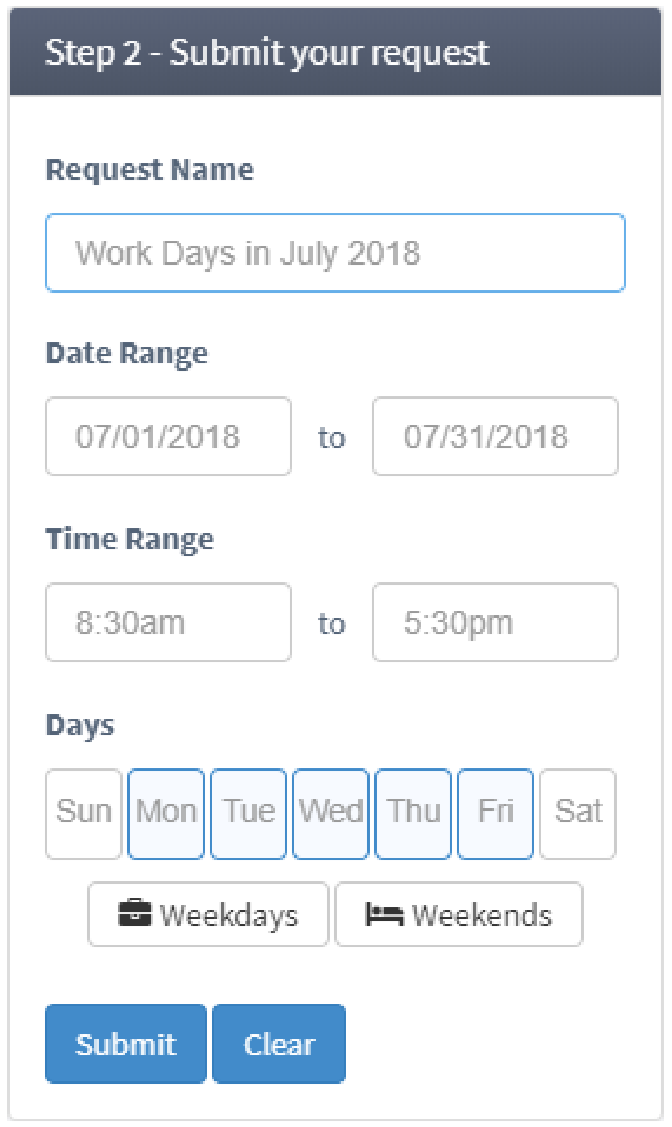 14. Click Submit. The confirmation window will appear.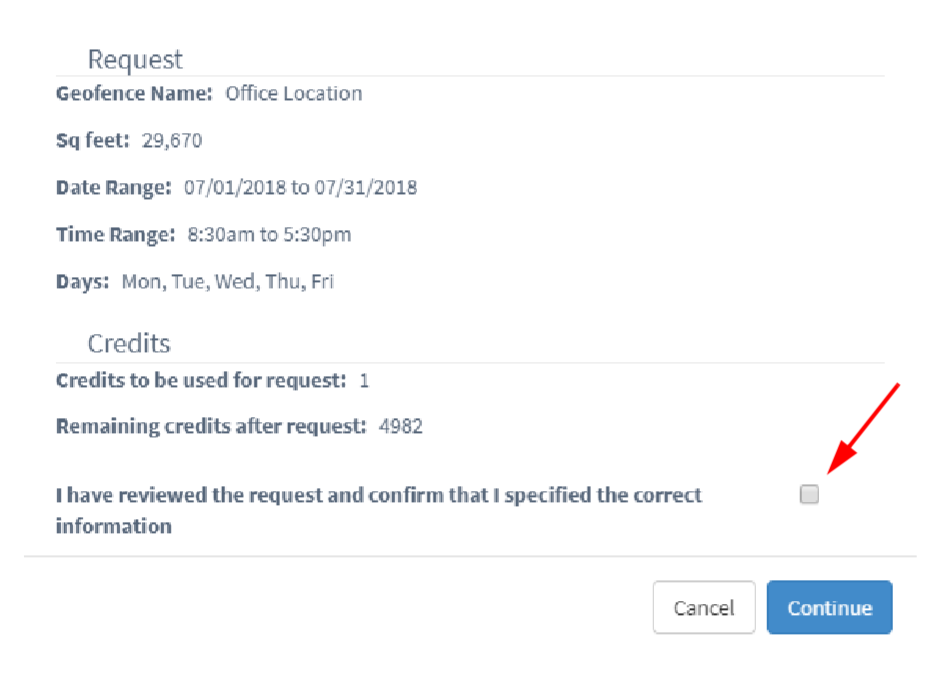 15. Ensure that the request information is as expected, check the box to confirm that you accept, and click Continue.
16. Once completed, your data extract will be in the customers list. In the side panel, click My Data and then Customers.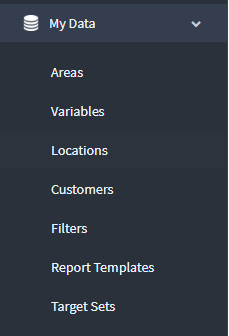 Caution:
Accessing the Data Extract: this data extract will not appear immediately in your customer list. Depending on the size of your query, this request could take several minutes or even more than an hour to upload. You can now use this extract with any customer-based report and analysis in ENVISION.
Low Sample Extracts: please be aware of an extract that contains a small sample size. You will see the following icon next to the extract that has fewer than 450 records.

When you click on the extract in the list, you will be prompted with a warning and the opportunity to decline the extract. If you decide to decline, your credits will be refunded and you can create another using a combination of either a larger area or longer time/date range. If you accept it, be aware that your analysis will be based on a smaller sample size.

A Note About Credits
Credits are used along the following lines. They are based on size and then multiplied based on the date range.
A geofence sized from 0 to 1,000,000 square feet uses 1 credit
A geofence sized from 1,000,000 to 2,000,000 square feet uses 2 credits
A time range of 1 to 2 years multiplies the credits used by 2
A time range of 2 years or greater multiplies the credits used by 3
| | | |
| --- | --- | --- |
| | < 1 MM Sq Ft | > 1 MM Sq Ft |
| < 1 year | 1 credit | 2 credits |
| 1-2 years | 2 credits | 4 credits |
| > 2 years | 3 credits | 6 credits |