The Import COVID-19 Case Data tool is now available in 2020 ENVISION USA Workspaces with the following segmentation systems:
Use WalkMe Through to be taken through a step-by-step of this process in ENVISION itself! Click on the WalkMe Through button below to get started!
______________________________________________________________
Importing Case Data
Downloading Case Data
Mapping Case Data
Reporting on Case Data
Importing Case Data:
1. In a 2020 USA PRIZM Premier, P$YCLE Premier, or ConneXions Workspace, click the Import COVID-19 Case Data tool.
2. Click Import Data.
3. You will receive a notification once the import has been completed.
Once the notification is received, you will be able to download, map, and report using the data. These data are stored as Customers in the ENVISION workspace for these functionalities to be available.

Downloading Case Data:
1. In the side panel, click My Data > Customers.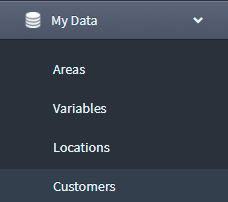 2. Click the check mark next to your imported COVID-19 Case dataset.
3. Click the gear icon
and select Download.
4. Select the geographic level(s) that you would like to append to your file.
5. Click Download.
The downloaded dataset is stored as a .csv file format.
Note: A variable list is available at the bottom of this article.

Mapping Case Data:
1. In the side panel, click Mapping.
Please wait for the mapping interface to load before proceeding.
2. Navigate to the ribbon on the top-left corner and select Add Layer > Customer.
You have the option to build your map based on Standard Geography, an existing Trade Area or by using Coordinates.
3. Select your COVID-19 Case dataset, and use the checkbox next to the appropriate variable for your map.
Tip: COVID-19 Case counts are cumulative over time, by selecting the "Yesterday" field, you will be mapping cumulative cases up until the day before the data were imported from the Import COVID-19 Case Data tool.
4. You have the option to select an area of interest for your map.
5. Once you have made your selection, click Next.
6. Specify the Map Type and Geographic Level.
The Map Type can be either:

Value which will create a thematic based on the count of the COVID-19 cases
Map % Penetration which will create a thematic based on the penetration of the COVID-19 in the specified geography

Note: For the COVID-19 case data, penetration will be calculated by COVID-19 case data/households; use directionally.

The Geographic Level, select the geographic level you wish to shade based on the COVID-19 case count.
Note: The most granular geographic level of detail is the County level.
7. Click Next.
8. You can adjust the Method, Classes, Color Gradient, Outline Width and Outline Color in the Style tab.
Methods:
Natural Breaks:

Classes are based on natural groupings inherent in the data. Class breaks are identified that best group similar values and that maximize the differences between classes. The features are divided into classes whose boundaries are set where there are relatively big differences in the data values. Natural breaks are data-specific classifications and not useful for comparing multiple maps built from different underlying information.
Quantiles:

Each class contains an equal number of features. A quantile classification is well suited to linearly distributed data. Quantile assigns the same number of data values to each class. There are no empty classes or classes with too few or too many values (features are grouped in equal numbers in each quantile).
Equal Interval:

Equal intervals divide the range of attribute values into equal-sized subranges. This allows you to specify the number of intervals, and the class breaks based on the value range are automatically determined. For example, if you specify three classes for a field whose values range from 0 to 300, three classes with ranges of 0–100, 101–200, and 201–300 are created. Equal interval is best applied to familiar data ranges, such as percentages and temperature. This method emphasizes the amount of an attribute value relative to other values.
Standard Deviation: The standard deviation classification method Standard Deviation shows you how much a feature's attribute value varies from the mean. The mean and standard deviation are calculated automatically. Class breaks are created with equal value ranges that are a proportion of the standard deviation—usually at intervals of one, one-half, one-third, or one-fourth standard deviations using mean values and the standard deviations from the mean.
9. You have the option to create a Choropleth or Graduated Circles map.
Choropleth Map: A visual representation of geographic areas with high/low concentrations of COVID-19 Cases (Map Count or Map % Penetration).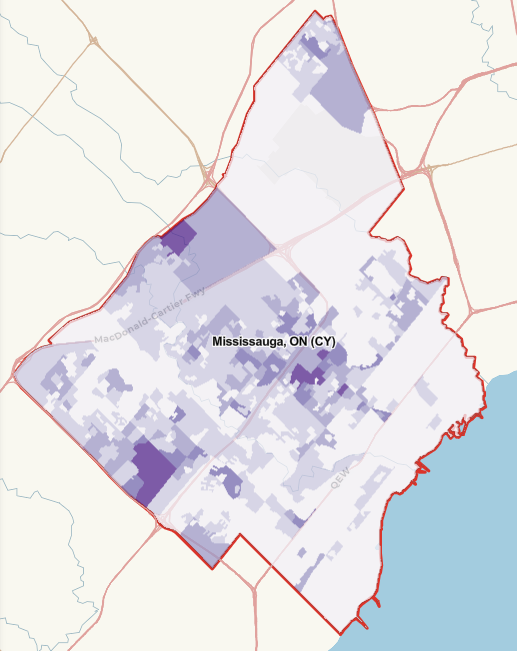 Graduated Circle Map: A visual representation of the concentration of COVID-19 cases, along with the ability to overlay graduated circles representing density.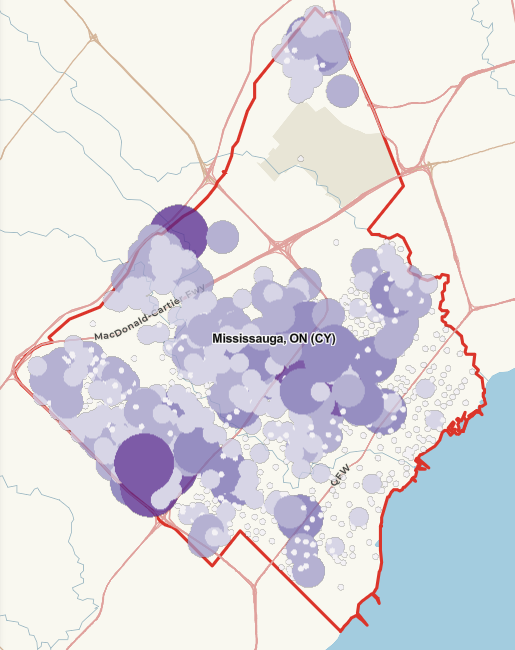 12. Click any of the coloured squares (Choropleth) or circles (Graduated Circles) to adjust the category style and range.
Choropleth Map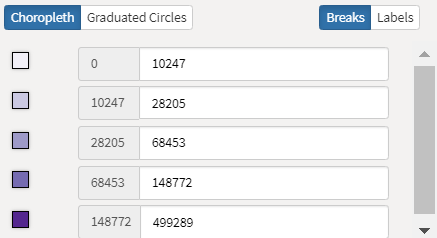 Graduated Circles Map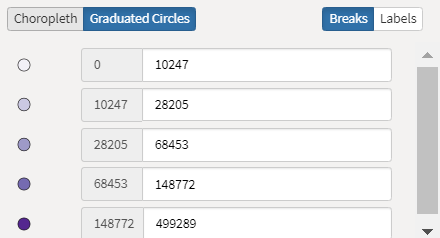 13. Toggle between Breaks and Labels to adjust the threshold and legend.

14. Once you have made your stylistic edits, click Update Style.

The map will draw, shading select levels of geography based on the number of COVID-19 cases found within each boundary.
15. Close the editor by clicking 'x'.

16. The Content pane loads, allowing you to see your map layers.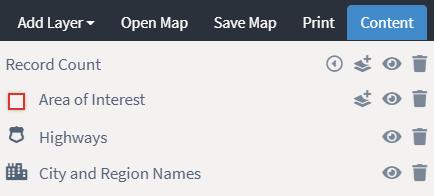 Each layer is driven by a workflow. You can rearrange layers by dragging them up and down, projecting the layers onto your map accordingly.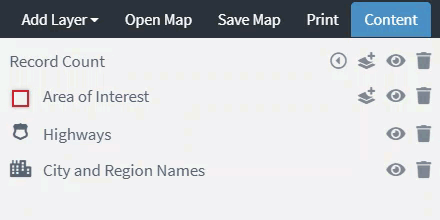 17. You can add additional layers to your maps, such as variables and segments.
18. Navigate to the Save Map tab and add a Title and Description. Once complete, click Save. All saved maps are accessible through the Open Map tab.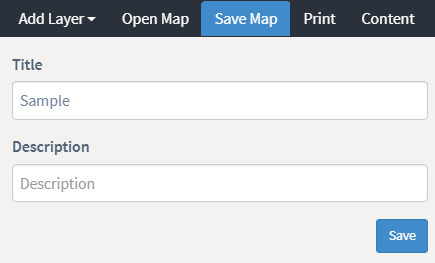 19. You can export your map using the Print tab, which also provides further customization options.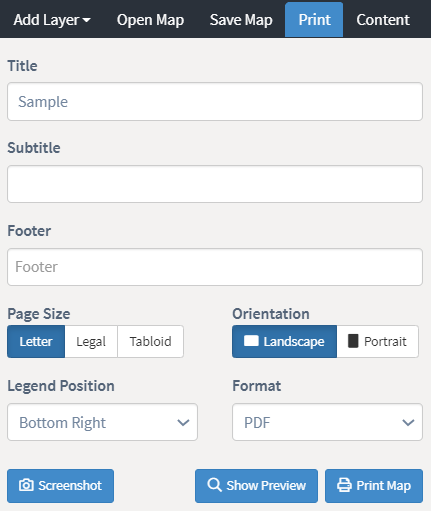 Your map will also be available on the Results page.
Reporting on Case Data:
Report on COVID-19 cases through the Ranking Areas - Customers tool.