The "Ancestor Headquarters IDs" field reveals the entire corporate structure for any store that is part of a chain. To understand how this information is displayed, consider the ownership structure of a typical Taco Bell restaurant. The restaurant chain is controlled by Yum! Brands Inc., which owns Taco Bell Corp., which in turn controls the Taco Bell store. In this example, the field would display two numeric business IDs: 959792284, 200051886.
For the best results when using this field, we recommend the following workflow:
After running the Location Lists tool in ENVISION, download your Location Lists .csv file. In the arrow menu next to the file, click Show in Folder.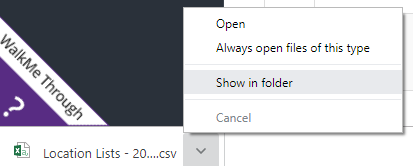 Open Microsoft Excel. In the Data tab, in the Get External Data group, click From Text to open the .csv file in your downloads folder.

Select Delimited and check the My data has headers box and click Next.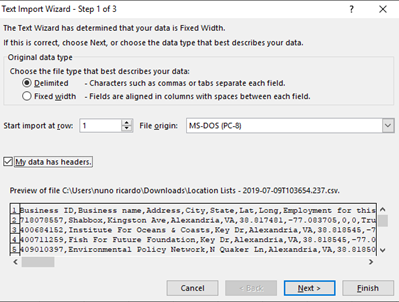 Select Comma and uncheck Tab (if checked) and click Next.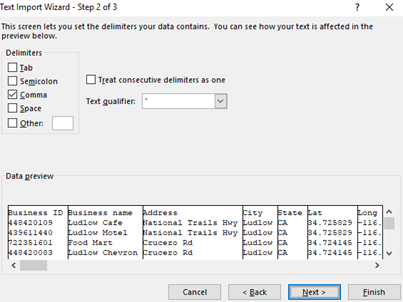 In the Data Preview window scroll across to the Ancestor Headquarters IDs and highlight the column. In the Column Data Format box (top left corner of the window) select Text and click Finish.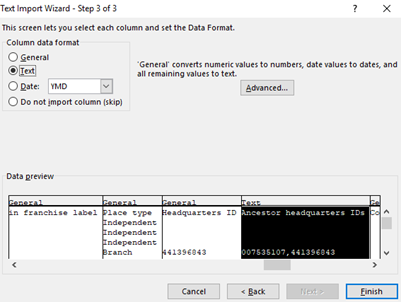 Choose whether you want to input the data in a new Microsoft Excel file or into the selected cell of an existing worksheet. Save as a new .xlsx file.
Your output should look similar to the following: