You can create presentation-ready outputs in the form of an Executive Trade Area
report.
Inputs Required:
A trade area
A base area (benchmark)
How do I create standard geography trade areas?
How do I select the appropriate benchmark/base?
Create an Executive Trade Area Report
1. On the side panel, click Executive Reporting > Trade Area.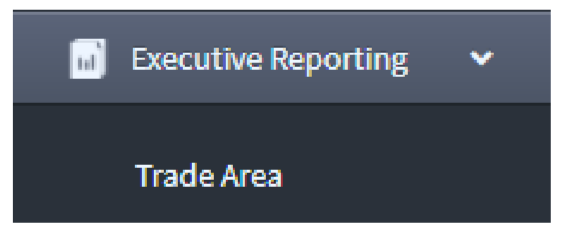 2. Click the checkmark

to select the desired output pages, either for an entire section or the individual pages within a section.
The options available in an Executive Report will vary depending on what data your organization licenses from Environics Analytics.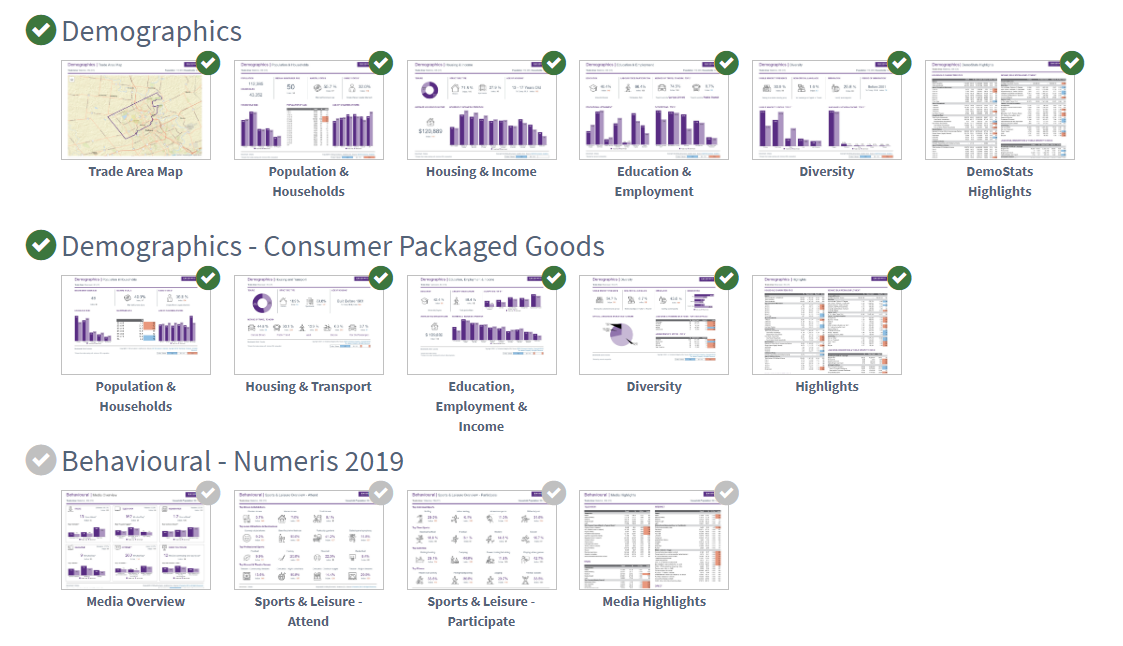 3. Underneath the list of options, give the report a name.
4. Click Next.
5. Select your Trade Area(s) by clicking the checkmark next to the name.
6. Select your benchmark/base by clicking the checkmark next to its name.
7. Click Create Dashboard. You will see a notification in the bottom-right corner indicating that your report is being created.
Open the Executive Report
The Executive Report will be listed on the Results page.
8. On the side panel, click Results.
The most recent report will be listed at the top of the page. If it is listed in bold font, with a checkmark next to it, it is finished processing.
9. Click the report to open it.
Navigating the Executive Report
You can browse the various pages of the report for each of the trade areas you have chosen.
10. Click the arrow to expand the Navigation Panel to see all the output you specified for this report. You can use the pushpin icon to keep the panel open.

11. Click the pages in the list to see the detailed report information.
12. If you have chosen multiple trade areas, you can view them from the Select an Area pane.
13. You can click the Presentation Mode button

to see the reports in a full-screen mode.
14. Use the left and right arrows on your keyboard to scroll through the pages of the report.
15. If you have chosen multiple trade areas, you can select them by using the up and down arrows on your keyboard.
16. Press the Esc key to exit the full-screen mode.
For more information on downloading the results, please see Download and Print a Report Dashboard.