QuickStats Reports provide easy access to key statistics on a specific location. A location can be selected from a previously imported location list or by adding a location to the map using the Map Click option. This output is useful for analyzing areas on the fly, allowing you to easily visualize current and potential location data on a map.
Below you will find an overview video (6:45 mins) that covers details on reporting on locations using QuickStats Reports and Executive Dashboards.
Inputs Required
Imported Location(s)
Note: QuickStats Reports can also be run for individual locations that are added to a map using the Map Click option.
List of Favourite Variables
Preset area definitions (default definitions are set in My ENVISION > Settings > Area Definitions section)
---
1. In the side panel, click Mapping.

2. Click on the Add Layer tab.

3. Select My Locations.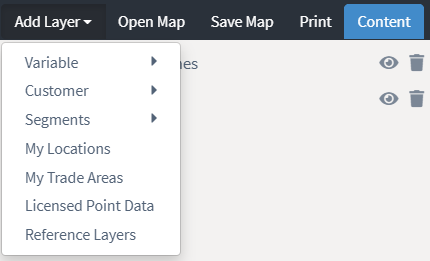 4. Use the search bar to search for your locations or click the check mark next to the location file that you would like to map.

You will see your locations load on the map.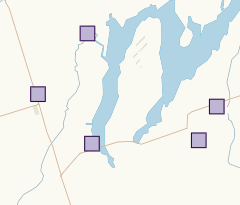 5. Click a location that you would like to run a QuickStats report for.

6. Select QuickStats. The following dialog box loads, reporting on variables that have previously been defined (through My ENVISION > Settings > Area Definitions) for the specified location.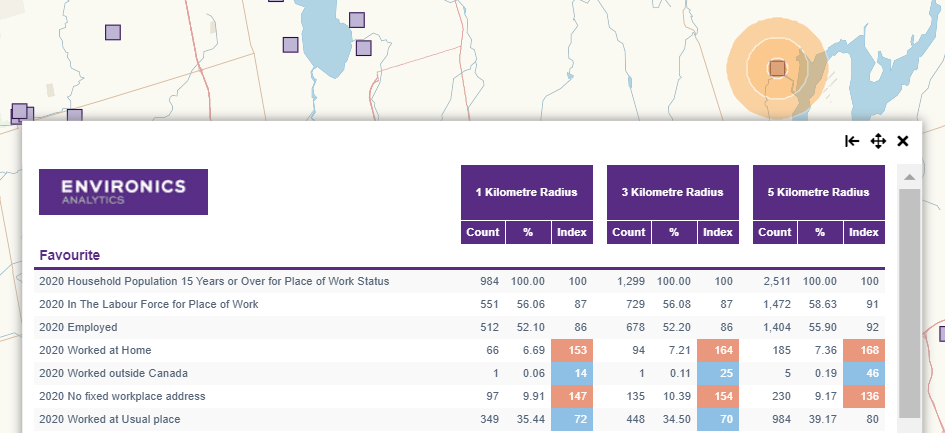 Tip: To view all your data and for the best onscreen viewing experience, we recommend selecting up to 20 variables or create up to five categories containing a total of ten variables.
The above image is reflective of 1, 3 and 5-kilometre drivetime distances. These areas can be changed in My Account > Settings > Area Definitions.
7. Click Print to export your QuickStats report. Click Print with Map if you would like to include your map in the export.

Note:The benchmark used for the report is the census metropolitan area (CMA) or core-based statistical area (CBSA) that contains the location. If the location is outside of a CMA or CBSA, then the benchmark used will be the Province or State.