The Canadian census geographies have been updated as a result of the 2021 Canadian census, and we are excited to announce that the new geographies are now available in 2023 workspaces.
This allows users to begin working with the new data. To do so, you must re-create your existing areas in a 2023 workspace to align with the new boundaries. In this article, we'll give you steps to ensure a smooth transition from a 2022 to a 2023 workspace and explore the context behind the boundary changes by Statistics Canada.
Note: It's best practice to continue to run analysis in a 2022 workspace until all your licensed data are available in the 2023 workspace. We release updates to our data in phases, with some products being updated before others. Please refer to our release schedule (opens in new tab) for details on when you can expect your databases to become available in the 2023 workspace. 
In this article:
---
The Importance of Updating Census Geographies
Boundary changes occur for several reasons, including population growth, urban expansion, and changes in land use. As communities evolve, Statistics Canada reviews and adjusts boundaries to ensure that they accurately represent the demographic, socioeconomic, and geographic characteristics of the population. This process helps maintain the relevance and reliability of the data collected and ensures that businesses, policymakers, and researchers have access to the most accurate information possible for decision-making.
Statistics Canada typically reviews and updates census geography boundaries every five years in conjunction with the national census. The five-year interval allows for identifying significant changes in population and land use patterns, providing a basis for updating the boundaries accordingly. However, some boundaries, such as federal electoral districts (FEDs), may be revised more frequently based on legislative requirements. Note for 2023, FEDs have not changed.
Benefits of New Census Geographies
The updated Canadian census geographies provide users with the most current data available, reflecting the latest population and demographic trends. This valuable information helps businesses stay ahead of the curve and make informed decisions based on the most recent data.
The new 2023 workspace also offers an improved user experience, with custom geographies such as drivetime, radii, geofences, and hand-drawn polygons migrated automatically. This means less time spent on manual updates and more time for strategic planning.
Migrating Standard Census Areas
For users with a small number of census-based areas to migrate, the quickest way to redefine standard census geographies is to create them in the 'My Areas' section of the platform. Simply follow the standard process for creating areas using a list of standard census geographies (opens in new tab).
For users with a large number of areas to migrate, follow these steps:
1. Log in to ENVISION and ensure you're in your current 2022 ENVISION workspace.
2. Search for the Data Export tool. Click it and select Standard Geography.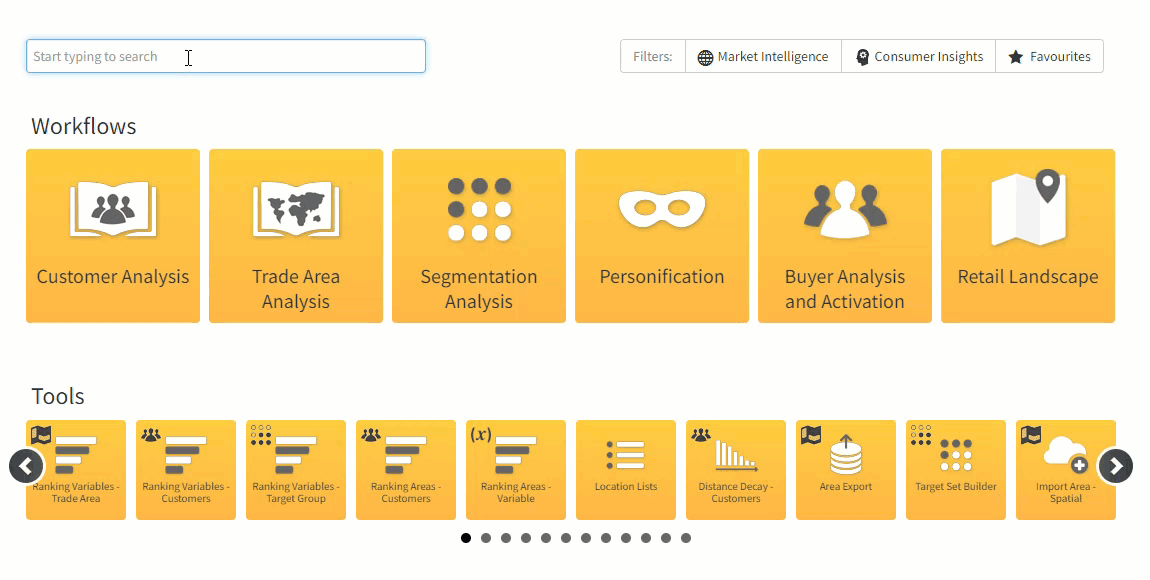 3. Identify your geographic scope or Universe. What is the geography that captures all of your areas of interest? This is likely to either be Canada itself or a province. Select the most appropriate geography.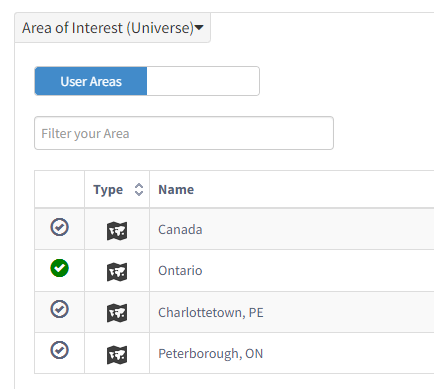 4. Select the component geography of interest. For example, if your trade areas are Census Subdivisions within Ontario, select Ontario as your Universe above and your level of geography as Census Subdivision.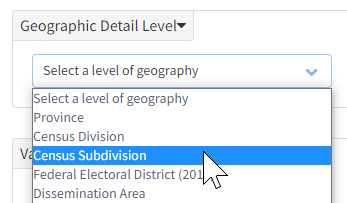 5. Select a licensed variable. This step is only required to facilitate the report running; this selection does not impact the result. Select any licensed variable.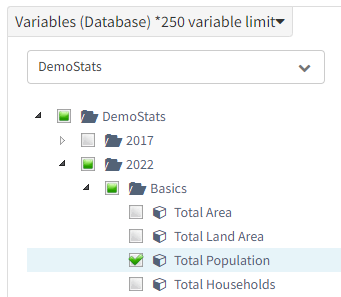 6. Click the Create button.
7. Once the export has run, navigate to Results and click the Result to download.

8. Once downloaded, navigate to ENVISION and open a 2023 Canadian Workspace (opens in a new tab), using any segmentation system.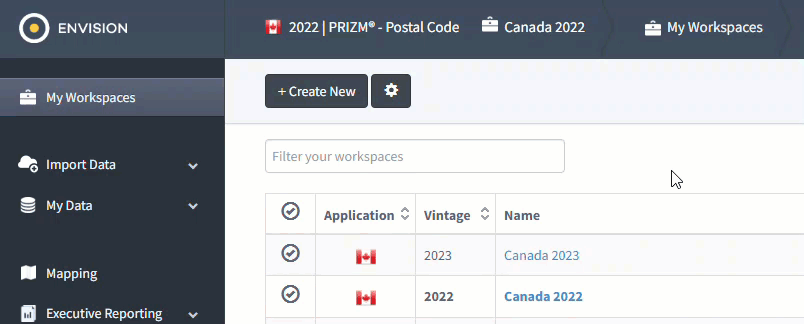 9. Once the workspace has been activated, go to the Import Data tab, click on Areas, and then Geographic Codes.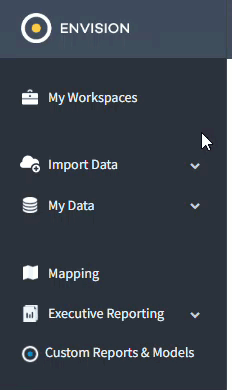 10. Drop/upload your file on the canvas and click the upload button.

11. Under Properties, select if you have 1 area or more than one area. Then identify the AreaName field and click the Next Step button.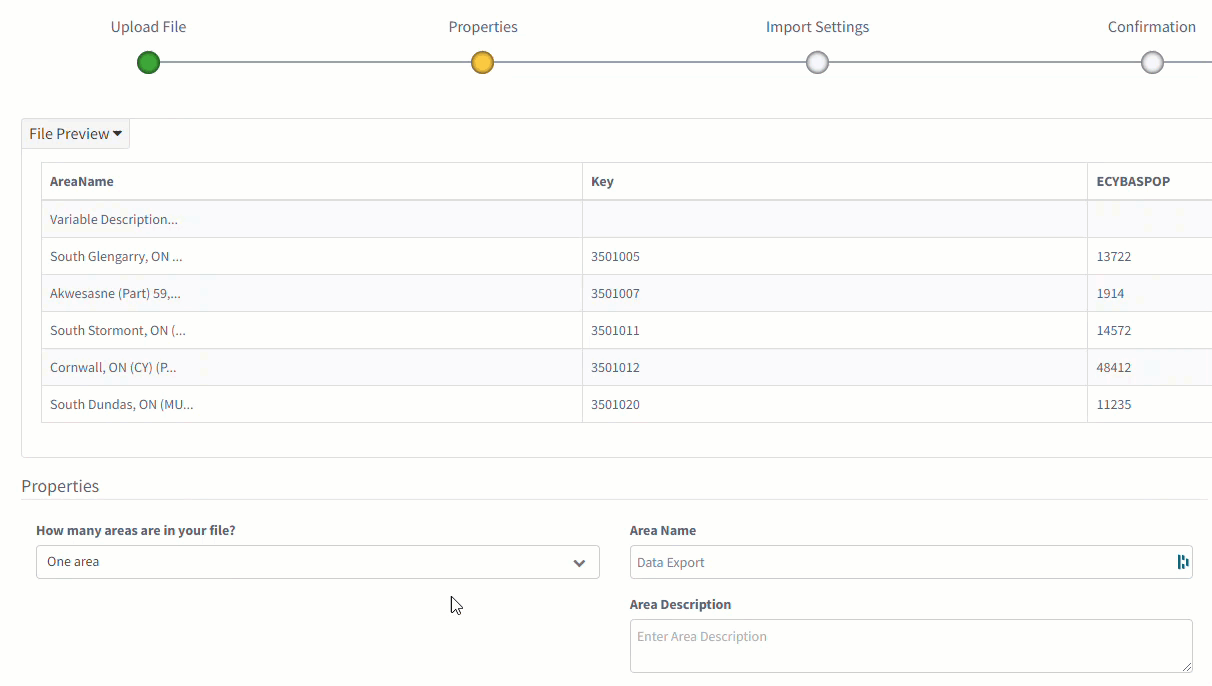 12. Select the appropriate geographic level and the Geographic Code Field. If using a standard ENVISION output, this field will be named Key. Click the Next Step button.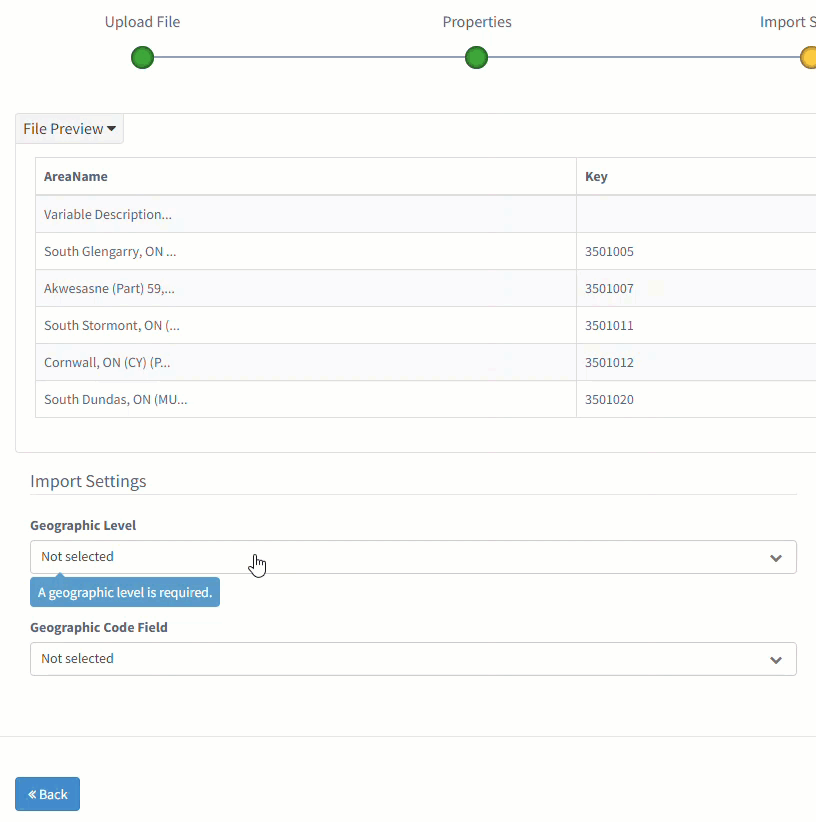 13. ENVISION will confirm the number of areas to be created. Click Finish.

14. ENVISION will create areas that are available in a 2023 Workspace. Any areas that are no longer available have been redefined or had a code change will not be created. Navigate to My Data and Areas to view your newly migrated census geographies.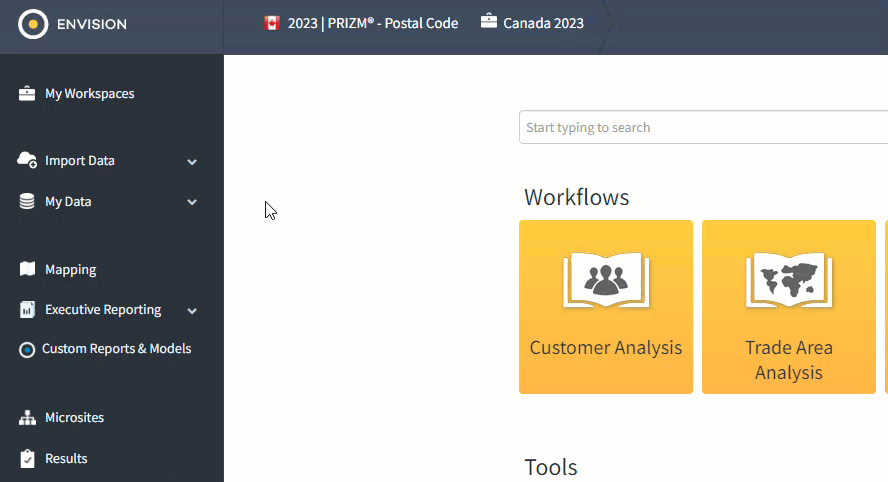 For more information on the specific changes by geographic level, please refer to the 2016-2021 Census Geography Change list (download).
---
While the process of migrating from a 2022 to a 2023 workspace may seem daunting, the benefits of the updated Canadian census geographies far outweigh any temporary inconvenience. By following the steps outlined above and understanding the importance of updating to the latest census geography definitions, you can ensure a smooth transition and take full advantage of the latest data and enhancements available in 2023 workspaces.
As always, Environics Analytics' Support team is here to help you throughout the migration process, so don't hesitate to reach out (opens in new window) with any questions or concerns.